China Society of Automotive Engineers officially released "China Automotive Top 10 Technology Trends for 2023" by online live broadcast on Dec. 29th, 2022. The list focuses on three types of technology trends which include major breakthroughs, new mass production, and significant improvement in application scale in 2023, which feature advances that will significantly move China automotive industry forward. Among them, the SparkLink wireless short-distance communication technology is on aboard and ranked #6 with consensus of the industry.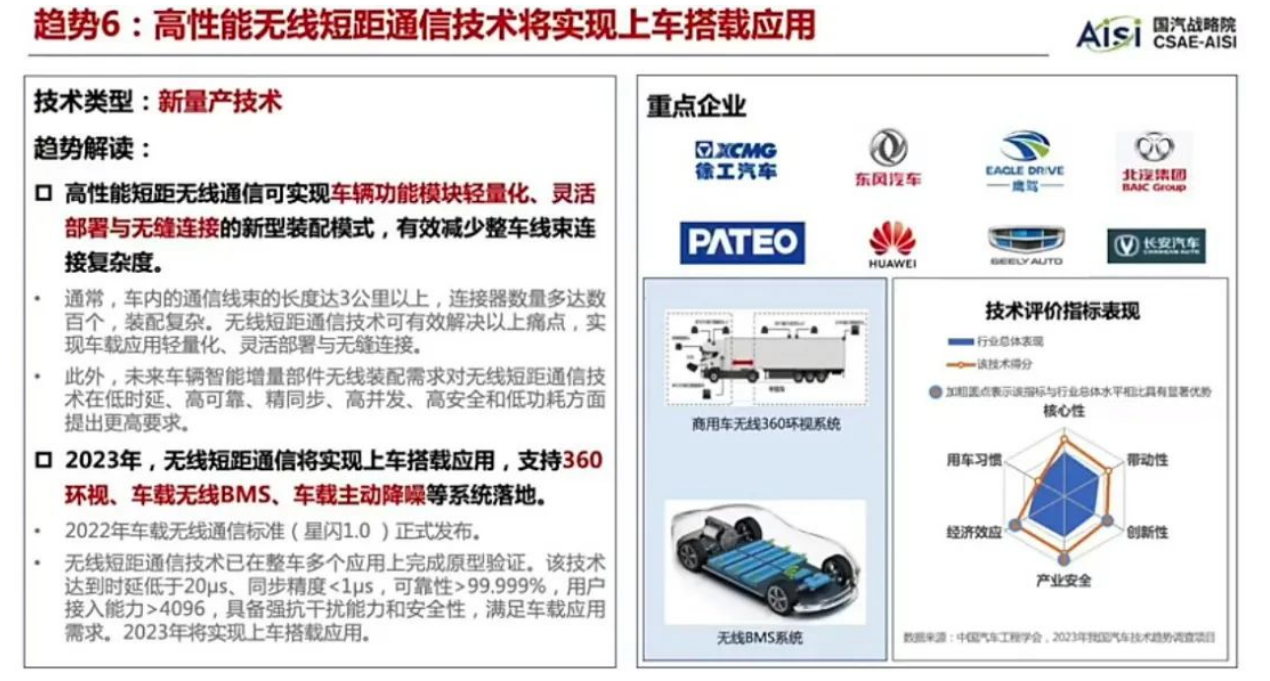 With development of smart and Internet-connected vehicles, new application scenarios and business requirements emerge continuously. The communication technology plays key role in the industry by providing fundamental functions to enable intelligent information exchange and sharing reliably, smoothly and securely. In order to effectively meet requirements of cost control, flexible deployment and weight reduction during manufacturing process of vehicles, the industry have focused on replacing part of wired communication by wireless communication to complete data transmission and control functions. At present, battery management system, vehicle infotainment, 360-degree surround view and vehicle active noise reduction are piloting applications to take wireless connection for communication. The relinquishment of cable not only improves production and assembly efficiency, but also reduces risk of wired connector failure, as well as brings flexibility of general layout of the whole vehicle. In the developing trend of wireless, these pilot scenarios put forward higher and more stringent requirements for wireless short-distance communication technology regarding transmission rate, reliability, delay and security.
The SparkLink technology, which is managed and originally developed by SparkLink Alliance, is a new generation of wireless short-distance communication designed to fully meet the stringent requirements of all kinds of vehicle applications. The SparkLink Release 1.0 series standard were officially released in Sep. 2022. In the SparkLink Alliance Summit of 2022, 16 alliance members jointly announced roadmap of the first batch of SparkLink commercial products which include test instruments, chips, modules and terminals from the last quarter of 2022 to 2023.
According to the "China Automotive Technology Trends for 2023", the SparkLink wireless short-distance communication technology is expected to be boarding the vehicles in 2023. The commercialization available of SparkLink technology will strongly promote adoption of wireless 360-degree surround view, wireless BMS, and wireless active noise reduction in vehicles.
Reference:
Official announcement, "China Automotive Technology Trends for 2023" and "China Automotive top 10 Breakthrough Technology in 3-5 Years"
2022 SparkLink Industry Summit – SparkLink commercial product roadmap